Antoinette Stroup, PhD
NAACCR President
nan.stroup@rutgers.edu
Happy New Year! Was it just me or did anyone else feel like 2018 snuck up on us? Sometimes I think that we are so busy that we lose all sense of time and before we know it, it's 2018 and the AJCC 8th Edition is a reality.  Ah! But, after a few deep breaths and a 10-minute mindfulness moment, I realized that we have a ton to look forward to this year. For example, our first ever Hack-a-Thon at the upcoming 2018 NAACCR Annual Conference, potentially more registries submitting data in the NAACCR XML format, positive changes to the Common Rule governing human subjects research now effective July 19, 2018, and of course two upcoming conferences.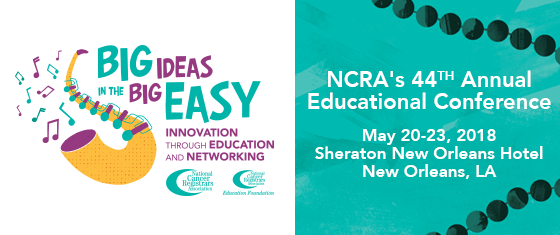 NCRA's Annual Educational Conference is in New Orleans, Louisiana this year from May 20-23, 2018 for their 44th Annual Educational Conference.  The French Quarter, yummy beignets, jazz, and cancer registrars…what can go wrong?
Then, the 2018 NAACCR Annual Conference is in Pittsburgh, Pennsylvania from June 9-16, 2018.  Pittsburgh is home to the 5-time Stanley Cup Champions, the Pittsburgh Penguins (hockey), 6-time Super Bowl Champions, the Pittsburgh Steelers (football), and 5-time World Series Champions, the Pittsburgh Pirates (baseball).
These two iconic cities have one thing in common: revitalization after adversity – Hurricane Katrina for New Orleans and the collapse of the steel industry in Pittsburgh. It's purely coincidence, I know. But, it's cool to think that we have an opportunity to visit both these cities in the same year.
Thanks to everyone who submitted an abstract to be considered for this year's NAACCR Conference! In total, we received 161 abstracts, but don't forget that there is still time to submit student abstracts, which are not due until Monday, March 26th at 11:59pm. For more updates, see the article in this issue of the Narrative.
If your registry voting representative has not done so already, there's still time to cast votes in this year's Board election, which ends February 2nd. We have President-Elect and three (3) Representatives-at-Large as well as a Sponsoring Member Organization Representative on the ballot this year. You can learn more about the candidates on the NAACCR "Meet the Candidates" webpage.
Finally, I would like to congratulate NCRA on successfully advocating for a new Standard Occupational Classification (SOC) for medical registrars:  Health Information Technologies and Medical Registrars. According to the NCRA website, "The new detailed occupation code reflects the increase use of data to improve medical treatment and care, and the critical role cancer registrars play in collecting that data." Among other things, it will correct salary information to aid in recruitment and retention of qualified individuals. I know that this has been a long, hard-fought achievement of NCRA under the leadership of Lori Swain and on behalf of cancer registrars. Indeed, the new SOC is a far cry from the "registry secretary" job title cited in a 1969 seminal publication by Dr. Charles Smart, Dr. Stanley Altman, and Ms. Virginia Moslander in CA: A Cancer Journal for Clinicians1. For more information about this SOC change, please visit the NCRA website here.
---
1Smart, C. R., Altman, S. J. and Moslander, V. (1969), Computerized tumor registries: An experiment in patient Care. CA: A Cancer Journal for Clinicians, 19: 8–17. doi:10.3322/canjclin.19.1.8